What Things Could Be
How do we see our natural and artificial worlds in urban settings? This project explores creating an experience that borders reality and imagination as a means to experiment how we discover and interact with out "environment".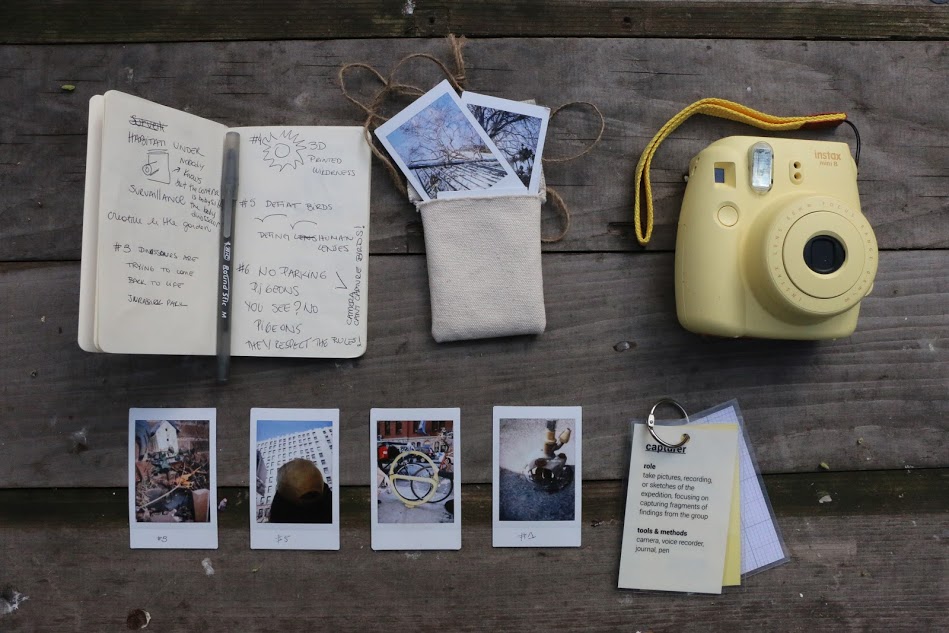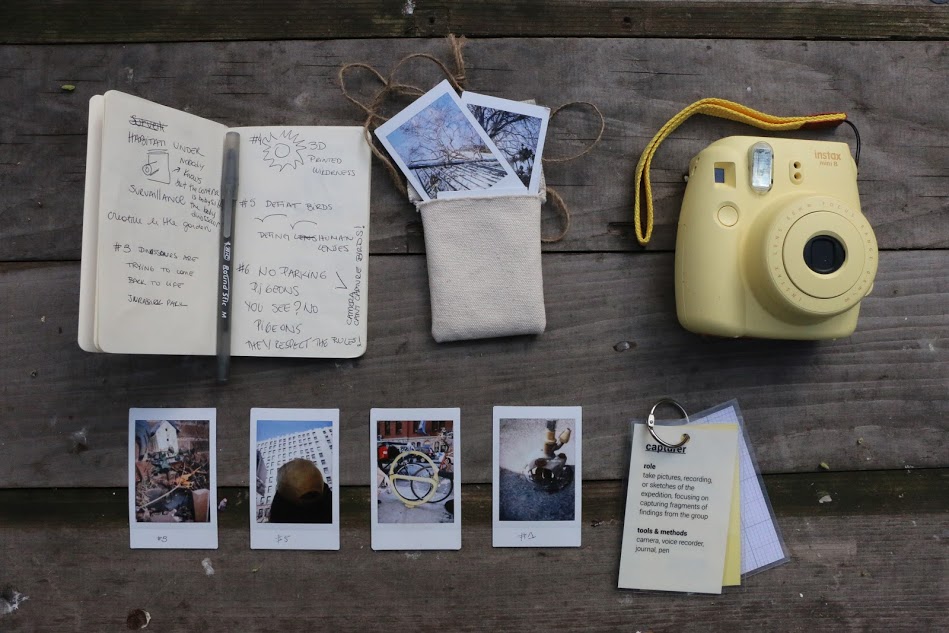 Design as discovery
Urban Expedition is a participatory, performative walk in the "artificial wilderness". Located in the East Village, participants are assigned roles, props, values, prompts, and guidelines to examine five pre-determined points of interest. Together we create narratives to investigate these stops, as well as find other points of interest along the way that add to a larger set of "findings" on the "artificial wilderness". During this experience, stories can be factual or imagined—as long as they engage in the tensions between the natural and cultural worlds.
Imagination is less precise, less worked out, more inclusive than ideas, and it belongs to people in their lives, not to philosophers working out doctrines.
Imagination is a way of seeing, a pattern of supposing how things must be.
– Jedediah Purdy, After Nature 2015
How it works:
Each participant is assigned a role, in order to be an active member of the experience
Actions are prompted by a set of props which are designated by each role
During the walk, we stop by a number of designated points of interest which are pre-determined
We engage in storytelling, led by the role of the storyteller, which can both be factual or imagined
Through this, we create story machines that engages an exploratory and creative learning mindset
The exploration
What Things Could Be began with a frustration on how we talk about environmental issues. In a heated debate with many contradictory sides, we often experience cognitive dissonance when talking about environmental concerns or actions. As someone who has always been interested in play and imagination, I set out to explore what this conversation could look and feel like if we were to explore our environment through play and imagination, instead of right and wrong. This work aims to respond to this challenge, by creating spaces of discovery. In this space, we can work through the incomprehensible— the tensions—that otherwise lead to dissonance. What would we talk about? What would we discover? How does this blur our boundaries between the artificial and natural worlds in an urban setting?
To see the full research, process, and academic context, see the book below, completed May 2016 at Parsons, New York City, Transdisciplinary Design MFA .
Collaborators
Isabella Brandalise
Roles
Researcher
Interaction designer
Graphic designer
Video editor
#environment
#learning
#imagination
#unreality
#storytelling
#situationists
#flux
#play
#roleplay
#perception
#groupplay